We are especially interested in making all our patients feel right at home! We put your needs first to achieve efficient and comprehensive treatment.
Our staff is trained and skilled, and we strive to provide energetic and fun-loving service to each patient. Each member of our team has years of experience in treating patients with the highest level of care.
We strive to stay abreast of the very latest in technology and advances by regularly attending continuing education courses and seminars.
---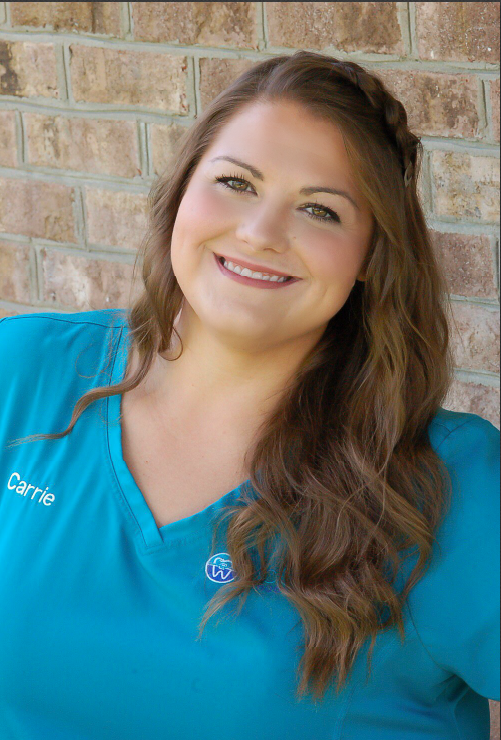 Carrie
Financial Coordinator
Welcome to McCall Orthodontics! My name is Carrie and I'm the financial coordinator for the practice. We'll meet at one of your first visits, when we review financial options, fees, and insurance. I also accept and enter payments, take care of insurance paperwork, and handle front-office duties, including answering the phones and scheduling visits.
I am so happy to have joined this amazing team in 2018! I enjoy seeing the incredible transformations Dr. McCall and this team create ;every day. I am ;here ;to help make the financial process as easy and stress-free as possible. I look forward to meeting you and facilitating this exciting time in your life!
As a true Eastern North Carolina girl, I love spending time near the water, whether it be camping by the ocean on the beach, or fishing in a kayak on the river. ;I also love visiting our beautiful mountains for a hike or just to take in the breathtaking scenery. When I'm not roaming around in nature, I love to sing and attend as many concerts as I can! ;
---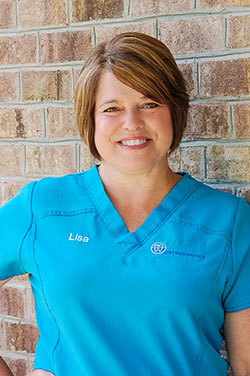 Lisa
Treatment Coordinator
Hello! I'm Lisa, Dr. McCall's treatment coordinator, and I'm looking forward to meeting you! That will happen at your first visit, for a complimentary consultation, when we'll talk about your treatment goals and concerns, Dr. McCall's proposed care plan, and everything else. When you're ready to start, I'll coordinate any outside appointments, set up your schedule, and be here to help you throughout treatment.
I've been with this practice since 1988 and treasure the friendships I've made, as well as the smiles I've watched develop, during that time. Dr. McCall and our team genuinely care about each patient ;as a person. We're all excited about getting to know you as you achieve your best smile!
I share my life with my husband and former high-school sweetheart ;Melvin, as well as our pug and our cat. I like to read, garden, craft, and walk and bike. We enjoy traveling to NC's beaches and mountains and spending time with family and friends.
---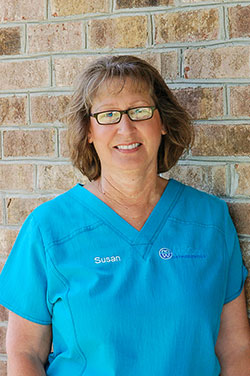 Susan
Orthodontic Assistant
Welcome to McCall Orthodontics! I'm Susan and you'll meet me in the clinic, where I work as an orthodontic assistant to Dr. McCall, and help ;with different orthodontic procedures. I'll make sure you're comfortable in the chair and assist with transferring braces to teeth and changing wires and ligatures. I also handle lab work, including pouring and trimming models and making retainers.
I started in the field ;and with this practice in 1994, and love working with a variety of patients, from the little ones here for pre-treatment, to adults getting the smile they've always wanted. This is an incredible practice, with a doctor and team who love making beautiful smiles!
Outside of work, spending time with my husband, three children, and two grandchildren is what's most important to me. I also enjoy sewing, woodworking, and painting.
---
Shannan
Orthodontic Assistant
Hello! I'm Shannan, I'm the newest member to Dr. McCall's chairside team. I made the transition from financial coordinator, back to my roots as an ;orthodontic assistant in 2018. I assist Dr. Mcall in the clinic where I help with various procedures such as changing wires, adjustments, ;Invisalign® attachments and ;final records to name a few. I also love making sure instruments are sterilized and surfaces are disinfected!
I joined the team in 2015 and love seeing people change along with their smile! It's a great feeling to be part of a practice that really cares about keeping you smiling and excited about changing your life!
I was born and raised in Missouri and moved to North Carolina in late 2015. My husband and I love spending time with friends and family here in NC and visiting those in MO, too. We also love being near water, whether on the beach or on a boat here, or on the crystal-clear Current River in MO.